Knee Bones

There are 3 knee bones that make up the joint:

1. Femur: runs from the hip to the knee (thigh bone)
2. Tibia: runs from the knee to the ankle (shin bone)
3. Patella: small bone at the front of the knee (knee cap)
Another bone, the fibula, is found on the outside of the leg, but is not directly part of the knee joint.
The bones of the knee are all lined with cartilage and whole joint is surrounded by a joint capsule.
1. Femur (Thigh Bone)

The femur is the largest bone in the body and at the knee, it joins to the shin bone and the knee cap. On the end of the femur are 2 round knobs (femoral condyles) which rest on top of the shin bone. Between the knobs is a groove called the patella groove where the knee cap sits.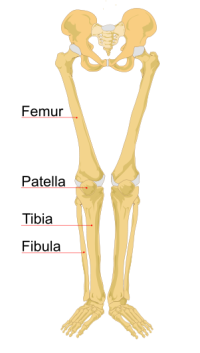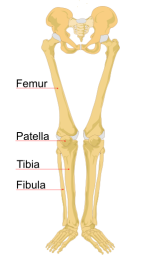 2. Tibia (Shin Bone)

The top surface of the tibia is basically flat and is known as the tibial plateau. The femur sits on this flat area. The top of the tibia is lined with an extra layer of cartilage, known as the meniscus. Damage to the cartilage is a common cause of knee pain and may be due to a cartilage tear or arthritis.
3. Patella (Kneecap)

The patella is a small upside down triangle shape bone. It sits inside the tendon of the thigh muscles at the front of the knee resting in the patellar groove of the femur. A great deal of pressure goes through the kneecap and it is therefore lined with the thickest layer of cartilage in the body. Common problems around the patella include chondromalacia patella, housemaids knee and patellofemoral pain syndrome.  The most common injuries are dislocations or fractures of the kneecap - find out more in the kneecap injuries section. 

4. Fibula

The fibula is often mistaken as being a knee bone. It is a thin bone that runs down the outside of the lower leg. It is not technically part of the knee joint but it is joined to the tibia by muscles so can be involved in various problems in the knee.
Structures Around the Knee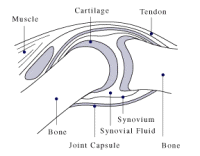 Articular Cartilage
Each of the knee bones is covered in a thin layer of articular cartilage. It lines the bones providing some cushioning and allows them to slide smoothly on each other without friction.
The meniscus is a much thicker specialist layer of cartilage unique to the knee joint. It supplements the articular cartilage to provide extra cushioning.  Damage to the meniscus is a frequent cause of knee pain - find out more in the knee meniscus section. 

Joint Capsule
The capsule is like a bag that surrounds the knee and attaches to the knee bones. It contains fluid (called synovial fluid) which lubricates and nourishes the joint, like oil in your car engine. This fluid is constantly replenishing itself, especially during movement of the knee. If you have been sitting or sleeping for long periods, the capsule can dry out making movements painful. Morning stiffness is a typical symptom of arthritis.
For more knee anatomy information, check out the sections on muscles, ligaments, meniscus and bursa.
Go to Anatomy Guide or Homepage

---
© knee-pain-explained.com 2010-2014.
Updated 2nd July 2014
All rights reserved. Terms & Conditions apply
---