Knee Pain Going Down Stairs

Knee pain going down stairs usually indicates a problem with the Knee cap (patella) and how it moves. The patella is a small bone yet huge forces go through it with every day activities. As a result, the back of the patella is lined with the thickest layer of cartilage in the whole body as it is designed to withstand massive compressive forces.
Knee pain going down stairs is not surprising when you consider that the force going through the patella is 3.5x body weight when you come down the stairs (normal walking only puts a force of 0.5x body weight). That means for a person weighing 120lbs, when they come down stairs, a force of 420lbs goes through the kneecap which has a contact surface area of only 12cmsq.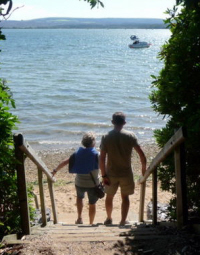 Anything that interferes with how the patella moves, or that affects the cartilage lining the knee cap will magnify these huge forces and lead to knee pain going down stairs.
There are 3 common causes of knee pain going down stairs:
This is also known as Anterior Knee Pain or Patellofemoral Pain Syndrome and is the most common cause of knee pain going down stairs.
What is it: A problem in the way the patella moves
Causes: Muscle tightness/weakness, flat feet, abnormal anatomy
Symptoms: General ache and knee cap pain, grinding, mild swelling
Aggravating Activities: Repeated activities, stairs, prolonged inactivity
Who Does it Affect: Can affect anyone, at any age, whether they are active or not. Accounts for approx 25% of all knee injuries seen in sports injury clinics
Treatment: Visit the Runners Knee section
What is it: Damage to the cartilage on the back of the kneecap
Symptoms: Achy knee cap pain, swelling, clicking/grinding
Aggravating Activities: Getting up from sitting, sports, pressure through the kneecap, stairs
Who Does it Affect: Most common in young, healthy people. More common in women.
Treatment: Visit the Chondromalacia Patella section
What is it: Degenerative changes (wear and tear) in the knee bones and cartilage
Symptoms: Morning stiffness, pain, swelling, clicking/grinding, reduced knee movements
Aggravating Activities: Worse after prolonged rest, activity, cold weather, stairs
Who Does It Affect: Most common over the age of 50.
Treatment: Visit the Arthritis section
Find Out More

To find out about these common causes of knee pain going down stairs, click on the links above.
Of course, lots of knee problems will feel worse on the stairs, but these are the three problems where knee pain coming down stairs is one of the most prominent features.
If you would prefer to diagnose your pain using other specific symptoms, how the pain started or the specific location of the pain, go to the Diagnose Your Pain section, for help working out was is causing your pain, and to learn what you can do about it.
Forces Through The Knee Cap

Walking: 0.5x body weight
Climbing Up Stairs: 2.5x body weight
Going Down Stairs: 3.5x body weight
Squatting: 7-8x body weight
Go to Diagnosis Section or Homepage

---
© knee-pain-explained.com 2010-2015
Last updated 27th January 2015
Knee-Pain-Explained.com is a trading name of Wilson Health Ltd
All rights reserved. Terms & Conditions apply

The material on this website is intended for educational information purposes only.  It should not substitute or delay medical advice, diagnosis or treatment.

---