Exercises for Knee Pain

People often ask if exercises for knee pain really make a difference – the answer is a resounding yes!
There are a huge number of different causes of knee pain, but in virtually every case exercises will really help to decrease pain and make everyday activities easier.

In this section, you will find tailored exercise programmes for all causes of knee problems, as well as great advice on how to exercise safely and my top tips on getting the best results.

There is something for everyone. We will also look more at how exercises help and why people should do exercises for knee pain, rather than relying on medications or resigning themselves to not being able to do the things they want to do.

What Exercises are Right for Me?

Here you can choose from exercise plans have been devised to help the most common causes of knee problems. These exercises for knee pain come with easy to follow instructions including videos and pictures so you know you are doing them correctly.
If you don't know where to start, I suggest trying the beginners exercises first and progress on from there.
---
---
1) General Exercises
| | | |
| --- | --- | --- |
| | Choose from: | A great place to start. Includes strengthening, stretching, balance and control exercises. Suitable for most knee problems. |
---
2) Exercises for Specific Conditions/Injuries

---
3) Leg Stretches

---
4) Strengthening Exercises

| | | |
| --- | --- | --- |
| | Choose from: | A vital part of rehab. Almost everyone with knee pain will have some muscle weakness. These exercises target the quads, hamstrings, glutes and calves. |
---
---
How Do Exercises Help?

Exercises for knee pain can help to prevent injuries and speed up recovery. To work properly, the leg needs three things, strength (power and endurance), movement (joint range and muscle length) and stability (control, balance and proprioception). Lack of any of them can cause problems and pain.
Any knee injury/problem will almost certainly affect the leg muscles. The main problems that develop are:
1) Tightness: which limits how much the leg can move and
2) Weakness: which limits either the instantaneous strength of the muscle or the endurance (how long the muscle can work for)
Tightness and weakness leads to muscle imbalance where some muscles don't work hard enough and others try to work extra hard to compensate. When this happens, subtle changes take place in the way force and weight goes through the joint, meaning that: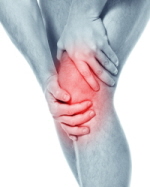 1) More weight goes through certain parts of the knee than should do
2) The knee moves in a way it is not designed to putting more pressure on the ligaments and cartilage
The result of both of these is pain, and an increased risk of injury. Exercises for knee pain help to combat that. All of these knee exercise plans are designed to increase the strength and flexibility of your muscles and to improve balance and proprioception. This will help:
1) Reduce pain and swelling
2) Ensure a full recovery from an injury
3) Prevent knee problems developing or recurring
Getting The Best Results

When doing exercises for knee pain, it is vital that you are working at the right level for your problem. If you overwork an injured knee, you could cause more damage. But if you don't work it hard enough, you won't build up much strength or mobility. See the exercise overview for guidance on how hard to push yourself.
I find one of the biggest barriers to exercise is motivation. People usually start with great intentions but after a few weeks, they get a bit bored, and stop. Visit the Getting the Best Results section for my top tips on how to stay motivated, how to progress your exercises for knee pain and how to ensure success! It usually takes a good few weeks to notice much change as muscles gain strength much more slowly than they lose it unfortunately. Perseverance is key!
What Next?

Choose from one the exercises for knee pain plans above to get you started, and aim to do a little bit each day.
If you are not sure what is actually wrong with your knee, visit the diagnosis section for help working out what is causing your pain and what you can do to make it better.
Go to Homepage
---
---
© knee-pain-explained.com 2010-2013.
Updated 30th April 2013
All rights reserved. Terms & Conditions apply
---