Gel Knee Pads
Gel knee pads can really help reduce knee pain. They are great if you are having pain kneeling down and can be used to provide padding and to protect the knee joint from impact injuries.
Gel knee pads are a must for anyone with knee pain who spends time on their knees whether its gardening, housework or manual labour such as roofing and carpet laying. Protecting your knees with gel knee pads can reduce your pain and speed up healing.
They are particularly useful for conditions such as Osgood Schlatters, Arthritis, Housemaids Knee, Chondromalacia Patella and anterior knee pain as they provide a soft cushioned surface to kneel on and reduce the pressure through the knee.They also help spread out the force going through the knee, rather than it all going through one point.
There are loads of different gel filled knee pads out there, made of different materials, with different brands available in different countries. Here I share with you my favourite ones from the US, UK and Canada.
1) Leathercraft Ultra-Flex Kneepads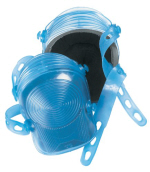 Overview: These pads have a special "comfort zone" gel centre which provides great cushioning for your knee. Surrounding this is a thick, high density foam and a soft, flexible outer shell. The pads grip well to most surfaces without scratching. Flexible straps ensure a great fit

My verdict: Great mid-range option. These work well either over clothes or against skin. They stay in place well and are extremely comfy - people forget they have them on.

Find Out More


Read: User Reviews Buy Now: RRP $26.49

2) ProFlex Long Cap Honeycomb Gel Pads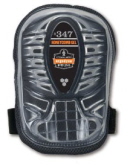 Overview: These gel filled knee pads reduce harmful, painful pressure on the front of the knee and redistribute body weight evenly. They are extremely comfortable, even when worn all day. Their long cap design optimises comfort and stability. The upper and lower elastic sleeves ensure the pad stays in place and there is an extra elastic strap with a hook and loop closure towards the bottom of the pad.
My verdict: Top of the range, suitable for garden work, construction, roofing etc. These are extremely comfortable gel knee pads – one person stated it felt like kneeling on soft clouds or pillows! Comes in pairs.

Find Out More


Read: User Reviews Buy Now: RRP $45.85 On Sale $39.55


3) Fiskars Ultra Light Kneeler Pads

Overview: These knee pads are perfect for wearing around the house and garden. Comfortable to wear, lightweight yet durable design and an easy to use adjustment strap. Sold as a pair.
My verdict: Great budget option. Comfy, easy to move around in, and provide good cushioning.


Find Out More


Read: User Reviews Buy Now: RRP $16 On Sale $11.78


1) Silverline Knee Pads
Overview: Pair of neoprene knee pads with gel inserts for ultimate comfort. Hard plastic caps with fully adjustable straps. Single strap on each pad to ensure a good fit.
My verdict: For jobs when you are constantly kneeling for long periods, these are the bees knees. However, they are not so good if you are going to be walking around lots as they are a bit bulky.
Find Out More


Read: User Reviews Buy Now: RRP £14 On Sale £11.90


Read: Product info Buy Now: RRP CDN $34.34


2) Irwin Professional Gel Pads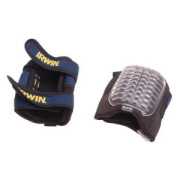 Overview: These gel  knee pads are designed to put maximum protection where it is needed most. The built-in flexibility provides long-lasting comfort and the embedded I-Gel insert provides maximum impact resistance. The non-marking cap will not damage surfaces. They are made of non-slip material to avoid sliding around on hard surfaces. Breathable perforated neoprene straps.
My verdict: These are my favourite if you are likely to be up and down a lot, as they stay in place well due to having 2 straps, even when you are walking around. Really comfortable and can be worn all day. They are the largest of the three – best to wear over your trousers. One customer review "I have bought quite a few sets of knee pads over the years from various manufacturers and found none of them as good as these, well worth the money paid."
Find Out More


Read: User Reviews Buy Now: RRP £32 On Sale £24.98


3) Blackspur Knee Pads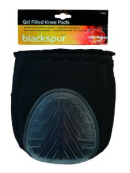 Overview: Pair of knee pads that contain a gel foam core for maximum comfort. They also have plastic cups for extra protection. They come with elasticated straps with Velcro fastenings to ensure a perfect fit. They are comfortable and easy to wear, and are designed for prolonged use.
My verdict: Great budget option. Comfortable even when worn all day.
Find Out More


Read: UK Reviews Buy Now: RRP £7.42

Read: Product info Buy Now: RRP CDN $29.68


What Else Can Help

Gel knee pads are a great way to reduce pain when kneeling. If you are also having problems with pain and weakness in the knee when doing activities, have a look a the brace guide. Or if you are wanting help working out what is causing your pain, go to the Diagnose your Pain section.

Go to Knee Brace Guide or Homepage

---
© knee-pain-explained.com 2010-2015
Last updated 27th January 2015
Knee-Pain-Explained.com is a trading name of Wilson Health Ltd
All rights reserved. Terms & Conditions apply

The material on this website is intended for educational information purposes only.  It should not substitute or delay medical advice, diagnosis or treatment.

---