Want to Beat Knee Pain?

I've been helping people beat knee pain for over 10 years. It's common, it's painful but by doing some simple things, you can make it better. There are many causes of knee joint pain but with each there are solutions to reduce the pain and get your leg stronger, meaning
you can get back on with your life.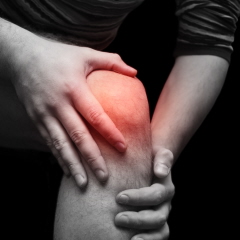 Not Had Your Knee
Problems Explained?
I find many people don't get the full story from their doctor about pain in the knee which leaves them confused and a bit anxious. I think it is vital for people to understand what the problem is, what caused it and what treatment options are out there.
Often clients come to me confused by medical jargon so here I'll share explanations that I've refined over the years from countless conversations with people just like you.
Advice For Everyone
Whether you want to find out about common knee injuries or problems you've been diagnosed with, want ideas for rehab and treatment, or want advice on what things you can and can't do, this site has something for you. There are 8 main sections to this site:
| | |
| --- | --- |
| Use our diagnosis section to help you work out what is wrong and why you have pain in the knee | Covers the most common problems that develop gradually without a specific injury and cause knee pain |
| | |
| --- | --- |
| Looks at injuries to the different structures in the knee joint including ligament and cartilage injuries | In-depth info on the different types of arthritis, causes, diagnosis, symptoms and treatment options |
| | |
| --- | --- |
| Braces can provide support and protection, reducing knee pain & instability. Compare products and read reviews | Strengthening and stretching exercises for the leg muscles. Easy to follow videos. Self tests for muscle tightness. |
| | |
| --- | --- |
| Treatment options including injections, acupuncture, PRICE & surgery to help you beat pain in the knee | Learn how the knee works to understand how it goes wrong: covers ligaments, bones, muscles and cartilage |
Choose from the links above or use the navigation bar on the left to find out more about knee pain and how you can beat it. Each section contains in-depth information on each topic and will guide you through all the different aspects of knee pain. If you can't find something you are looking for, please use the search box on the right hand side to search through this site, or visit the Site Map.
We love hearing from our visitors, so please share your thoughts and experiences in the comments section at the end of each page. And do email us if you have any questions on anything to do with pain in the knee by using the Contact Us form. Thanks for visiting!

Go to Sitemap

---
---
© knee-pain-explained.com 2010-2014.
Updated 12th March 2014
All rights reserved. Terms & Conditions apply
---