I've been helping people beat knee pain for more than 10 years. It's common, it's painful but by doing some simple things, you can make it better.

There are many causes of knee joint pain but with each there are a whole range of solutions to reduce the pain and get your leg stronger,
meaning you can get back on with your life.
I find many people don't get the full story from their doctor which leaves them confused and anxious. I think it is vital for people to understand what the problem is, what caused it and what treatment options are out there.  Often clients come to me confused by medical jargon so here I'll share explanations that I've refined over the years from countless conversations with people just like you.

There are nine main sections on this site. Each contains detailed information on all aspects of knee pain.  Simply choose the category that you want to find out more about: 

1. Knee Pain Diagnosis
In the knee pain diagnosis section, you will find loads of information to help you work out what might be causing your problem.  It is vital to understand the cause of a problem so you can get the right treatment.  There are two ways to search:

By thinking about the area where the majority of the pain in concentrated, we can get clues as to what may be going on.  Choose from:


Anterior Knee Pain: symptoms at the front
Posterior Knee Pain: symptoms at the back
Medial Knee Pain: symptoms on the inner side
Lateral Knee Pain: symptoms on the outer side
Kneecap Pain: symptoms over the patella
Calf Pain: symptoms on the back of the lower leg

By looking at your specific symptoms (what you are feeling), you can get a good idea what is wrong. Here we cover symptoms such as:

Noisy Knees: are there popping and clicking noises?
Running Knee Pain: does it hurt during or after a run?
Giving Way: does the leg suddenly buckle underneath you?
Locking: does the knee get stuck in one position so you can't move it?
Pain on Stairs: is it difficult using the stairs?
Pain When Bending: does it hurt to bend your knee?
Swelling: did it come on suddenly or gradually, with or without an injury?
Bony Lump: is there a small, hard lump below your knee?
Stiffness: does your leg feel stiff and sore?

2. Common Conditions
In the knee conditions section we cover everything you need to know about the most common causes of knee pain that come on gradually without an injury. We look at the common causes, symptoms, diagnosis and treatment options for each.  It includes conditions such as:


Arthritis: There is a whole section dedicated to arthritis
Bakers Cyst: Swelling behind the knee
Chondromalacia Patella: Damage to the kneecap cartilage
Gout: Inflammation due to uric acid causing swelling, pain and redness
Osgood Schlatters: The most common cause of knee pain in teenagers

Other conditions covered are runner's knee (aka anterior knee pain or patellofemoral pain syndrome), bursitis, housemaids knee, pes anserine bursitis, jumper's knee (aka patellar tendonitis), iliotibial band syndrome and osteochondritis dissecans.

3. Common Knee Injuries
In the knee injuries section we look at the most common injuries that affect the knee.  You can find out everything you need to know including the causes, symptoms, diagnosis and treatment options for each.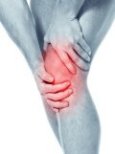 ACL Injuries: full or partial tears of the anterior cruciate ligament causing pain and instability
PCL Injuries: damage to the posterior cruciate ligament
Meniscus Tears: damage to the cartilage lining the joint causing pain, instability and locking
Ligament Tears: overstretching or complete rupture of the ligaments
Calf Strain: overstretching of the calf muscles
Twisted Knee: did you injure your knee by twisting it?
Kneecap Injuries: including dislocations and fractures of the patella

4. Arthritis
The knee arthritis section is dedicated to the most common cause of knee pain in the over 65's caused by wear and tear to the bones and cartilage.  You can find out everything you need to know including: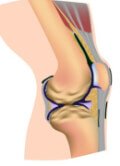 1) Different types of arthritis: Rheumatoid and osteoarthritis
2) Common Causes:  why do people get arthritis
3) Symptoms & Diagnosis: how it presents and diagnosis tools
4) Stages: how it progresses through three different stages,
5) Treatment: whole range of treatment options including the best exercises for arthritis, which foods help and which hinder, natural remedies such as supplements and homeopathy, alternative medicine options such as acupuncture and how to know if you need surgery.

5. Exercises
Studies have shown that leg exercises are one of the best treatments for virtually every cause of knee pain.  The knee exercises section has a whole range of exercises ranging from beginners through to advanced levels.  You can choose from: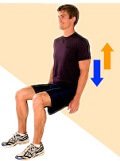 1) General Programmes: combine stretching, strengthening and movement
2) Strengthening Exercises: Beginners, intermediate and advanced
3) Stretches: programmes for the different muscle groups
4) Rehab for Specific Conditions: as well as programmes for specific knee problems such as meniscus tear rehab. 

There are simple to follow instructions with videos and pictures to make sure you are doing them correctly as well as lots of advice on working at the right level for you and how to get the best results from your exercise programme.

6. Treatment Options

In the knee treatment section we look a whole range of different treatment options to help reduce knee pain and swelling, improve function, speed up recovery and stop knee pain from coming back. 

This section includes treatments such as PRICE, the best first line treatment after an injury, how to use ice therapy safely and effectively, steroid injections to reduce pain and inflammation, synvisc injections to improve lubrication of the joint, acupuncture and tubigrip compression bandages for support and to reduce swelling.

7. Knee Surgery
In some cases surgery is the best option.  In the knee surgery section you will find loads of information on:

Information on both partial and total knee replacements including:


Surgery: What happens before, during and after surgery
Recovery Process: what happens, how long does it take, how can I speed things up
Rehab Process: what exercises & activities should I do
Common Problems: common problems and how to avoid them
FAQ's: e.g. am I overdoing it?  Will I set of metal detectors?
Total vs Partial Replacement: which one is right for me?

In some cases a tear of the anterior cruciate ligament will require surgery.  It may be a case of repairing a small tear or the entire ligament may need replacement.  You can find out everything you need to know including:

Surgery: what happens before, during and after surgery
ACL Reconstruction: surgery to replace the ligament
Rehab Protocol: guides you through the rehab process
Common Problems: common problems and how to avoid them
Recovery Process: including how long it takes to return to activities
Injury Prevention: how to reduce the risk of sustaining an ACL injury

8. Knee Braces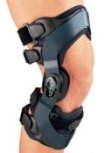 In the knee braces section we will guide you through the process of choosing the right knee brace for you.  There are so many different braces on the market these days it is often hard to find the best one.  There is loads of information on the most popular braces on the market from the best manufacturers including ACE, Donjoy, McDavid, Mueller and Neo G as well as arthritis braces, magnetic braces and gel knee pads. 

With each brace we talk through what conditions they are suitable for, the pros and cons, where you can get them at the best prices and you can read reviews from actual users, just like yourself.

9. Anatomy
In the knee anatomy section you can find out all about how the leg fits together to help you understand why we get pain when things go wrong.

You can find out in-depth information about all the different structures and how they work together including the bones, muscles, cartilage, bursa and ligaments.

Each section contains in-depth information on each topic and will guide you through all the different aspects of knee problems.   Choose from the links above or use the navigation bar on the left to find out more about knee pain and how you can beat it. If you can't find something you are looking for, please use the search box on the right hand side to search through this site, or visit the Site Map.
We love hearing from our visitors, so please share your thoughts and experiences in the comments section at the end of each page. And do email us if you have any questions on anything to do with pain in the knee by using the Contact Us form.

Finally, please remember that the information on this site is not intended to be a substitute for medical advice.  Any incidence of knee pain, instability or swelling should be checked out by your doctor and you should always consult your doctor before starting any new treatments. Thanks for visiting!