Knee Brace Guide
There are hundreds of different knee brace options out there and here we will help you work out what is the best for you.
Knee braces provide different levels of support and fix to the knee in a number of different ways. They also come in different materials and vary enormously in price.

Here are all the options you need to help you find the right brace for you, whatever your problem. You can search by:
1) Support Level: Basic, Advanced, Elite, Knee Pads
2) Braces for Specific Conditions: Arthritis, ACL injuries
3) Style of Knee Brace: Pull Ups, Wrap Arounds, Hinged Braces, Knee Straps, Magnetic Braces, Neoprene braces
4) Manufacturer: Ace, Donjoy, McDavid, Mueller, Neo G, Thermoskin

In each section you can find a range of appropriate braces, find out how they work, what conditions they are suitable for and read reviews of each brace so you can find the best knee brace for you.

1) Braces By Support Level

Perfect for ongoing knee conditions that require a low level of support.
Low cost, easy to put on & provide some support


Perfect for moderate levels of support & for reducing forces through the knee.
Long lasting & adjustable for good fit & comfort

Provide maximum stability to prevent giving way.
Perfect for the knee that repeatedly buckles or following knee surgery

Perfect for reducing pain & providing protection when kneeling.
A must for anyone who spends lots of time on their knees

2) Braces for Specific Conditions

| | |
| --- | --- |
| Reduce the forces going through the arthritic parts of the knee, provide support, improve stability, reduce pain. Can delay need for surgery | Provide the ultimate stability & protection. Perfect for use after ligament tears, reconstruction surgery or to prevent injury |
3) Knee Braces by Style

| | |
| --- | --- |
| Simple pull up supports that provide warmth, compression and basic support. Great for minor injuries and pain | Adjustable with velcro straps allowing a perfect fit to your knee. Especially good if swelling comes and goes. |
| | |
| --- | --- |
| Provide good support to the knee using a range of hinges to support & offload the knee joint. Perfect for moderate/severe instability & pain | Double or single straps to relieve pressure on the knee tendons.  Perfect for conditions like Jumpers Knee, ITBS & anterior knee pain |
| | |
| --- | --- |
| Braces with inbuilt magnets designed to improve healing, reduce pain & promote general well-being | Neoprene is the best material for retaining heat which helps promote healing & reduces pain and swelling |
4) Braces By Manufacturer
| | |
| --- | --- |
| Ace stands for All Cotton Elastic and they have been making braces for nearly 100 years. Provide mild-moderate support at low cost | Top of the range braces for everyday to elite athlete use. Pioneering, innovative designs. Particularly good for ACL instability and arthritis. |
| | |
| --- | --- |
| Well trusted brand that offer a whole range of products that receive great reviews. Effective, durable, easy to use & good value for money | Another well respected brand that have been making braces for a whole range of knee problems for over 50 years |
| | |
| --- | --- |
| Relatively new boy on the block, these braces are quickly taking the market by storm. They receive excellent user reviews for comfort, support and value | Thermoskin supports are made of specially designed material to raise temperature below the skin for pain relief and healing, especially for arthritis |
---
Not Sure Where To Start?

If you are feeling a bit lost, start by thinking about what level of support you are looking for from a knee brace. If you aren't sure, have a look at the basic braces and see if they sound about right. If not, move onto the advanced and then the elite level braces. That way you are sure to come across a brace that is right for you.

Size Guides

Where knee braces come in more than one size, it is important to get the right one otherwise they won't work effectively and may be very uncomfortable. If your knee size falls between two sizes, it is usually best to go for the larger size for a better fit.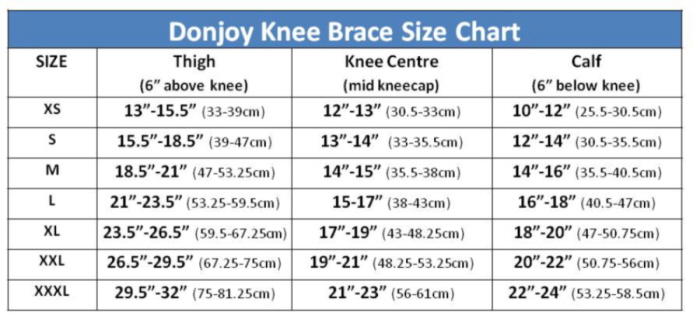 Go to Homepage
---
© knee-pain-explained.com 2010-2015
Last updated 22nd September 2015
Knee-Pain-Explained.com is a trading name of Wilson Health Ltd
All rights reserved. Terms & Conditions apply

The material on this website is intended for educational information purposes only.  It should not substitute or delay medical advice, diagnosis or treatment.

---