Medial Knee Pain

Medial knee pain is pain that occurs on the inner side of the knee and can be due to a number of problems.
It may come on gradually over time or may develop suddenly after an knee injury. It may be a general inner knee pain, movement may be restricted or there may be a sharp pain.
It is very common to get pain on the medial side of the knee, because muscle weakness and/or tightness (which is very common) can subtly change the way the knee moves. This causes more force to go through the inner side of the joint, rather than distributing weight evenly through the whole joint, which results in damage to the inner side of the knee and therefore medial knee pain.
Here you will find a summary of the three most common causes of medial knee pain. Click on the links to find out more about each condition including symptoms and treatment options for each. If you want more help working out what is wrong with your knee, visit the knee pain diagnosis section.
Causes of Medial Knee Pain

What is it: Damage to some or all of the fibres of the Medial Collateral Ligament on the inner side of the knee
Onset: Sudden onset due to a force through the outside of the leg eg tackle, or sudden twisting of the knee eg skiing
Symptoms: Inner knee pain, swelling, bruising, instability, stiffness
Aggravating Activities: Bending the leg, walking, stairs, sports
Features: There are 3 grades of MCL tear, depending on how severly you have damaged the ligament
Treatment Options: PRICE, knee brace, exercises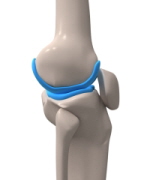 What is it: Tear in the cartilage lining on the inner side of the knee joint
Onset: Can occur suddenly with a force through the knee, sudden twisting of the knee or gradually through wear and tear
Symptoms: Medial knee pain, swelling, locking, instability, difficulty straightening the leg
Aggravating Activities: Walking, running, squatting, stairs esp going up
Features: There are 4 types of meniscus tear depending on how the cartilage has torn
Treatment: PRICE, exercises, surgery
Find out more about Meniscus Tears

What is it: Wear and tear most commonly to the cartilage lining the medial side of the joint
Onset: Symptoms gradually come on over time. Most common over the age of 50.
Symptoms: Morning stiffness, inside knee pain, swelling, clicking/grinding, reduced leg movements
Aggravating Activities: Worse after prolonged rest or activity, cold weather
Features: There are 3 classification stages of osteoarthritis, mild, moderate and severe based on how badly the joint is affected.

Treatment: Depends on the severity but arthritis treatments include exercises, medication, heat/ice, acupuncture, injections and knee braces
Find out more about Arthritis
Want to Know More?

To find out more about these common causes of medial knee pain, choose from the links above. However, just because there is inner knee pain, doesn't necessarily mean the problem is on the inner side of the joint. Pain can refer to different places so eg a problem above the joint can produce a feeling of inside knee pain.
If your pain doesn't sound quite like any of these problems, visit the Common Causes of Knee Pain section to find out about the most common knee problems.
Alternatively, if would prefer to diagnose your pain using other specific symptoms, how the pain started or the specific location of the pain, go to the Diagnose Your Pain section for help working out was is causing your pain and to learn what you can do about it.
Remember, the only way to accurately diagnose your problem is to see your doctor.
Go to Diagnosis Section or Homepage

---
© knee-pain-explained.com 2010-2015
Last updated 21st January 2015
Knee-Pain-Explained.com is a trading name of Wilson Health Ltd
All rights reserved. Terms & Conditions apply

The material on this website is intended for educational information purposes only.  It should not substitute or delay medical advice, diagnosis or treatment.

---