Knee Sleeves
Pull-up knee sleeves the simplest type of support offering compression, support and warmth to the knee.  They are really simple to use, cheap, and come in a variety of sizes to ensure that they fit correctly.
They can really help in the first few days following minor knee injuries to take some strain off the joint and give it some support.  They can also be helpful for longer term problems to give the knee that bit of extra support so you can keep going with your normal activities.  They are also a great item to have in the first-aid kit in case of injury.
What Are They Suitable For?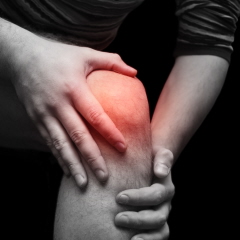 Knee sleeves provide basic protection and are perfect for mild knee pain, sprains, arthritis, weakness, tendonitis, cartilage irritation and knee swelling.  Not only do they provide some support for the knee, they also help retain heat which boosts the circulation to the joint and can aid healing. 

They are not suitable for moderate to severe instability and pain – in these cases you need advanced or elite protection.
Knee sleeves can usually be placed into three categories

1) Open Sleeves: These have a hole at the front to reduce pressure through the kneecap and allow the knee to breathe
2) Closed Sleeves: A complete sleeve supporting the entire knee and allowing more heat retention
3) Inbuilt Stabilisers: Some have side stabilisers which provide extra support for the knee ligaments.
There are a number of different knee sleeves on the market. Here I share with you my favourite, those that people find comfortable, supportive and good value for money. They are all from trusted brands, and can work really well to reduce pain, swelling and weakness.
Top Rated Knee Sleeves

Overview: A popular pull on sleeve providing basic support. It is sized and shaped to ensure it fits well, which is something you don't always get with cheaper brands. It is also seamless behind the knee for extra comfort. Provides compression and retains warmth to promote healing and reduce pain. Fits left or right knee and comes in five sizes.
My verdict: This popular knee sleeve is excellent value for money and is my favourite closed knee support. It is easy to apply, stays in place, and is made of heavy duty material so is long lasting.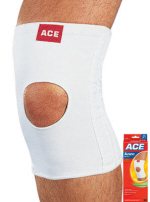 Overview:  This ACE knee sleeve provides support and stability by simulating the action of the knee ligaments without restricting normal movement. Has flexible metal side stabilisers providing medial and lateral stability. Designed for use with arthritis, general knee soreness and swelling. Supports weakened muscles, tendons and ligaments and helps reduce the risk of injury.
My verdict: This is my favourite open sleeve on the market as it has the added advantage of side stabilisers for extra stability. Users rate it highly for comfort, support and durability.
The Best of The Rest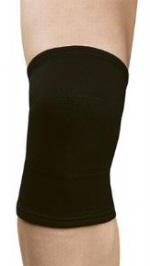 Overview: Black pull on sleeve that combines superior knee stabilization with the benefits of heat retention. Made of elastoprene – an innovative combination of breathable elastic and neoprene blend materials. This provides support and retains heat to help reduce swelling and aid healing, whilst releasing moisture to prevent excess sweating. Has comfortable reinforced edges which prevent rolling and slipping. Available in two sizes Small/Medium Large/Extra Large
My verdict: This is a great simple pull up sleeve that provides moderate support. I like the elastoprene material that gives the benefits of heat retention to improve healing without making the leg all sweaty.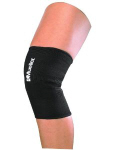 Overview: This popular lightweight elastic pull on sleeve offers firm support for stiff, weak or sore knees without inhibiting movement. Its contoured design helps prevent bunching and slippage to ensure a proper fit. It provides compression and retains warmth to promote healing and reduce pain.
My verdict: A good basic pull on knee sleeve offering basic support and protection, but not right if you have a serious injury. Mueller is a trusted brand that has been making braces since 1960's.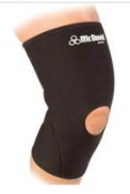 Overview: A popular pull on sleeve providing compression and soft tissue support. This model features a hole and buttress at the front to reduce pressure on the kneecap, improving comfort and flexion.  It has an inner rubber surface reduces slippage and is seamless behind the knee for extra comfort. NB Latex free, made of neoprene
My verdict: People report that is very comfy even when worn all day. It comes in a reversible black/red so you can choose which you prefer
If you are looking for a brace that provides more support, or you would prefer an adjustable brace, I recommend checking out the knee brace overview which explains all about the different types of braces on the market and which ones get the best user reviews.
It is really important to get the correct size knee sleeve, to ensure a correct, comfortable fit and to get the right level of support.

To get an accurate fit, measure around the knee and chose from the options below. If your knee size falls between two sizes, it is usually best to go for the larger size.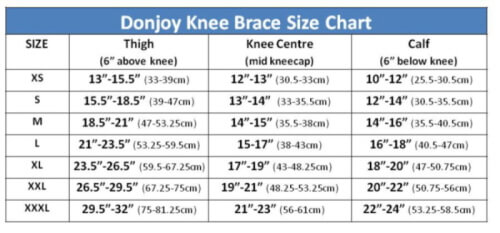 *Prices correct as of September 2016.  All prices are subject to change.  Please note we do not stock products directly and therefore have no control over price changes.  See advertising policy for more information

Go to Knee Brace Guide or Homepage