Magnetic Knee Braces
A magnetic knee brace is a knee support that has magnets strategically placed around the knee joint region, especially around the kneecap to help reduce pain.
Magnetic therapy has been used for hundreds of years as a drug-free, non-invasive treatment for pain and swelling.
There are differing opinions about the effectiveness of magnets, but many people find them beneficial, especially for conditions like arthritis.  Here we will look at how they work, look at some of the most popular magnetic knee braces out there and the safety issues when using magnetic therapy.

Magnetic knee braces supposedly work in a combination of ways, claiming to:
1) Increase Blood Flow
Magnetic fields are believed to attract and repel charged particles in the blood creating movement and heat. This would cause blood vessels to widen which accelerates healing by bringing in fresh oxygen and nutrients and removing toxins. This could all help to reduce inflammation and stiffness.
2) Decrease Pain
Magnetic fields are also thought to trigger the nervous system which reduces the pain signals sent to the brain thereby reducing the amount of pain felt.
3) Promote General Well Being
Magnetic therapy also reportedly benefits the whole body by improving sleep quality and activity levels as well as reducing stress.
Many people report significant benefits from magnetic therapy, however medical opinion is divided and at present, there is a lack of scientific data to validate the efficacy of magnets. The physical and biological claims made are currently unproven and no effects on health or healing have been fully established.
Here are some different magnetic braces that people have found beneficial in reducing their knee pain whilst providing support.


Best US/Canadian Magnetic Braces
1) Hercules Tourmaline Magnetic Knee Brace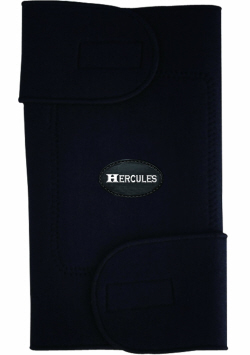 Hercules' Summary: Tourmaline Magnetic therapy produces heated infrared waves which can penetrate deep into injured regions.  This improves circulation and helps reduce inflammation with no side-effects.  They advise that you use it for 30-55 minutes, twice a day.  It should not be worn for longer as it may cause a low-temperature burn.

My verdict:  This magnetic knee brace receives excellent user reviews scoring an average of 4.4/5.  It is also reasonably priced

Find Out More


Read: US Reviews Buy Now: RRP $25.99


Read: CDN Reviews  Buy Now: RRP CDN $29.90


2) Bioflex Magnetic Knee Brace
Bioflex's Summary: Bioflex® knee magnets are recommended for use on sports injuries and chronic pain conditions such as arthritis. The manufacturer claims this is the only magnetic product medically proven to relieve pain without medication and is clinically proven to reduce pain, accelerate healing and improve circulation. It contains two concentric circles of magnets guaranteeing accurate alignment and deep penetration of the magnetic field. It also provides light compression to help reduce swelling. Available in two sizes. S/M fits knee size up to 14.5" and L/XL fits knee size up to 16.75".
My verdict: This magnetic knee brace will provide good support and compression, even if the magnetic therapy has no effect.

Find Out More

Read: User Reviews Buy Now: RRP $48.99


3) KneedIT XM Magnetic Knee Band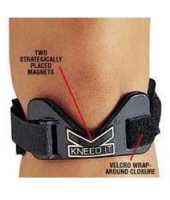 KneedIt's Summary: The KneedIt knee support band is a magnetic strap contains two strategically placed magnets and is designed to relieve minor knee pain, soreness, stiffness and inflammation, and improve patellar tracking. It is particularly effective with arthritis, tendonitis and chondromalacia. As you move, it applies gentle pressure to the joint and patellar tendon, and stabilises the kneecap. This magnetic strap was developed by an Orthopaedic Surgeon and Sports Medicine Specialist. One size fits most due to Velcro wrap around closure.
My verdict: If other knee straps have failed to help, it may be worth trying this one. However it only contains two magnets so if it is the magnetic effect you are wanting, I would try the Bioflex brace.
Find Out More


Read: US Reviews Buy Now: RRP $35 On Sale $24.74


Read: UK Reviews  Buy Now: RRP £33.99


Read: CDN Reviews Buy Now: RRP $29.94 CAD


Best UK Magnetic Braces

1) TechAffect Magnetic Knee Support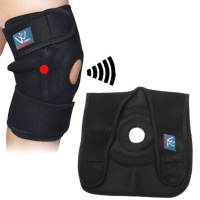 TechAffect's Summary: Adjustable single knee support with magnetic inserts.  Contains inlaid magnetic strips around the sides of the kneecap.  It helps to prevent knee injuries. Easy and comfortable to wear with a simple adjustable Velcro strap.
My verdict: This magnetic knee brace receives very positive reviews with an average score of 4.4/5. 

Find Out More


Read: UK Reviews Buy Now: RRP £25 On Sale £14.95


2) AHC Magnetic Knee Brace
AHC's Summary: This magnetic knee brace contains twelve strategically placed magnets around the centre of the brace. It provides compression to reduce swelling, increases blood flow to promote healing and retains heat all of which helps reduce knee pain. Made of the highest grade neoprene and stretch nylon it provides compression and heat retention whilst letting moisture (sweat) out. Features adjustable Velcro straps for optimum comfort and stabilisation to prevent injury.
My verdict: Easy to apply, comfortable to wear and reasonably priced.
Find Out More


Read: UK Reviews Buy Now: RRP £12.95


If you are not that fussed about the magnets, take a look at the Knee Brace Guide to find out about a huge range of knee braces that get great customer reviews for all kinds of knee pain offering everything from basic pull up sleeves to elite sports knee braces.
Magnetic Therapy is NOT SUITABLE for people who:
1) Are pregnant
2) Have a pacemaker
3) Children under 7 years old
4) Have Haemophilia
5) Are undergoing dialysis
6) Have surgically implanted metal screws
7) Are allergic to metals
8) Have open wounds (do not use magnets directly over them)
9) Use high voltage machinery or work with high voltage cables
10) Using transdermal drug delivery patches or insulin pumps
11) Develop irritation after the use of magnets
Go to Knee Brace Guide or Homepage

*Prices correct as of September 2016.  All prices are subject to change.  Please note we do not stock products directly and therefore have no control over price changes.  See advertising policy for more information