Knee Band Straps

Patellar knee band straps can be used for a number of different knee problems.  They are simple but extremely effective. They are often referred to as Jumpers Knee Straps or Patellar Straps.

Knee bands are designed to put pressure through the patella tendon and support the kneecap, therefore improving patellar tracking (kneecap movement). This helps reduce the forces going through the kneecap and patella tendon.

A patellar strap is perfect for use with Osgood Schlatters, Patellar Tendonitis (Jumpers Knee), Chondromalacia Patella and Runners Knee. They are also good for general anterior knee pain around the kneecap. Double knee straps work well for Iliotibial Band Syndrome.
There are three different types of patellar knee band to choose from – single, double and magnetic. They are all "one size fits all" up to a 22"/55cm knee circumference.
Here is my guide to the most widely available knee straps on the market. In general there is little difference between products in the same class given the simple nature of these straps. However, they are not identical and below I'll look at how they vary and which ones get the best reviews.
These are the most widely used patellar knee band straps. They are very popular and people often can't believe how such a small strap makes such a difference to their knee pain.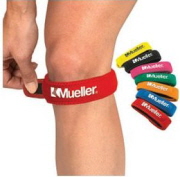 Overview: Mueller have been around for 100 years and this product is a classic. A tubular insert provides uniform pressure for pain relief. It is available in a range of colours: red, royal blue, green, black, gold/yellow, orange, pink.

My verdict: This is the best value for money knee strap on the market and gets great reviews. Mueller are the only brand that offers the strap in a wide range of colours.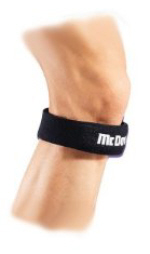 Overview: This patellar knee band has a unique tubular buttress which applies constant, mild compression on the patellar tendon. It is perfect for people who do lots of running and/or jumping. Fully adjustable Velcro for perfect fit – one size fits all.

My verdict: The foam cushion helps this strap stay in place therefore providing consistent support. It's a bit more expensive than other makes but generally receives slightly better reviews from patients.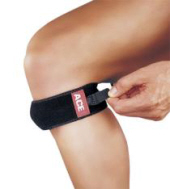 Overview: The only knee band on the market that is dual adjustable. It has a Velcro fastening with unique additional small side tab that can be pulled to tighten the straps once they're Velcro'd together.

My verdict: An excellent strap that consistently gets great reviews. Because of the dual adjustability it tends to be easier to ensure a perfect fit.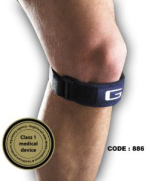 Overview: The Neo G patella knee band features a silicon pad, designed to be worn directly below the kneecap, over the patellar tendon.

My verdict: Most patellar bands are just a strip of Velcro, but this has a plastic loops for tightening the band making it easier to apply than other straps, however it is a little pricier.
This style of patella knee band goes round the top and bottom offering more support and making it more versatile. They are good for general anterior knee pain and Iliotibial band syndrome (ITBS), as well as all the usual conditions single knee straps work for. Personally I am less keen on the double straps as I think the single patellar straps work just as well and are cheaper. However some people really like having the extra support above the knee too.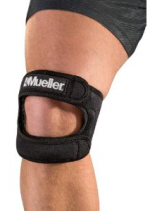 Overview: This lightweight, comfortable support provides targeted compression without reducing mobility. It has 3 compression tubes: 1) Lower targets the patellar tendon 2) Upper targets quadriceps malalignment 3) 2 side tubes help improve patellar position, movement and tracking. These all decrease the forces going through the knee cap and friction on the Iliotibial band (ITB) and patella tendons. Breathable mesh fabric prevents excessive sweating, a common problem with knee braces.
My verdict: If you think this is the right style brace for you, I would recommend this Mueller knee brace over other makes as it gets the best reviews for this style.
Overview: It has two adjustable buttresses which can be placed top and bottom to reduce the forces going through the kneecap and patellar tendon, or at the sides to help prevent patellar subluxation. The two adjustable straps provide optimum fit and comfort. Made of neoprene.
My Verdict: I like the fact that you can move the two buttresses to where you most need them. McDavid is a trusted brand so if this is the right style, you won't go too far wrong with this one.
Magnetic knee braces claim to work in a combination of ways:
1) Increase blood flow and reduce inflammation
2) Decrease pain
3) Promote general well-being and relaxation

To find out more about magnets work, including safety advice before using them, visit the Magnetic Knee Brace section.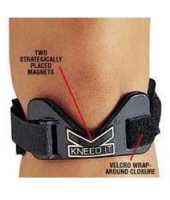 Overview: This strap contains two strategically placed magnets and is designed to relieve minor knee pain, soreness, stiffness and inflammation, and improve patellar tracking. It claims to be particularly effective with arthritis, tendonitis and chondromalacia. This magnetic strap was developed by world renowned Orthopaedic Surgeon and Sports Medicine Specialist. Only available in the US & Canada

My verdict: I'm sceptical of the benefits of magnets in this situation but it could be worth trying if you are not happy with the alternatives.
Other Knee Brace Options
Knee band straps work really well for some people, but others need a bit more support around the whole knee. If this is the case, go to the Knee Brace Overview to find out about all the different types of braces available and find the right one for you. I'll talk you through the differences between a basic and elite brace, pull ups and heavy duty hinged braces, and which braces are best for specific knee problems.
Go to Knee Brace Guide or Homepage

*Prices correct as of September 2016.  All prices are subject to change.  Please note we do not stock products directly and therefore have no control over price changes.  See advertising policy for more information