Arthritis Pain in Knee

Arthritis pain in knees is one of the most common causes of knee pain.  Arthritis is the leading cause of disability in the US.  
It is characterised by changes in the bones and cartilage in the knee joint.  These are caused by either "wear and tear" (osteoarthritis) or inflammation (Rheumatoid Arthritis).

"Arthritis" simply means "inflammation of the joint". To understand why people get arthritis pain in knee joints, we need to first know what a normal knee is like. 
What Happens in Arthritis?

The knee joint is made up of 3 bones, the femur (thigh), tibia (shin) and patella (kneecap).  The ends of the bones are covered by thick layers of cartilage.  Cartilage is a thick, spongy material that lines the joint providing lubrication and cushioning, which allows the knee to move smoothly and painlessly. It also works as a shock absorber and ensures that the forces going through the knee during daily activities are spread evenly throughout the joint.
Arthritis pain in knees develops when the cartilage thins and wears away resulting in bone-on-bone contact which causes pain, stiffness and inflammation.

Here you will find an overview of the the two most common types of arthritis pain in knee joints.  You can find out more about the causes, symptoms and treatment options by clicking on the relevant links throughout.

Types of Arthritis Pain in Knee

There are two main types of arthritis in the knee:
1) Osteoarthritis: where there is degeneration of the bones
2) Rheumatoid Arthritis: where there is inflammation in the joint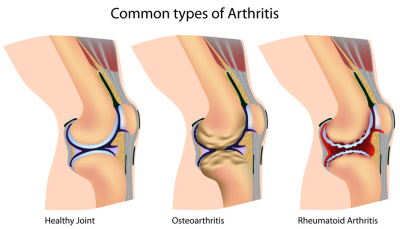 1) Osteoarthritis Overview

This is commonly known as "wear and tear" arthritis.  Osteoarthritis is by far the most common cause of arthritis pain in knees affecting approximately 16 million people. Usually osteoarthritis of the knee is related to, but not caused by aging, most commonly affecting people over the age of 65. Other common terms used are "degenerative arthritis knee" or "arthrosis".
In a normal, healthy knee joint, there is a reasonable sized gap between the bones (tibia and femur) due to a thick layer of cartilage and lubricating fluid.  The surface of the bones is nice and smooth, and as the knee bends and straightens, the joint moves easily and painlessly due to the cushioning from the cartilage.

With osteoarthritis of the knee, a few things happen. The cartilage thins, and as a result the bone underneath begins to thicken and lays down new bone to try and protect itself.  These spurs stick up so the joint surfaces are no longer smooth but are all bumpy.  They are known as osteophytes or knee bone spurs

As a result of these changes, there is less space between the bones. This means that as you use the knee, you can get bone rubbing on bone, causing arthritis pain in knee joints.  The knee bone spurs can also limit the amount of movement in the knee leading to stiffness.

2) Rheumatoid Arthritis

Rheumatoid arthritis is a chronic, systemic inflammatory disorder (chronic = long term, systemic = throughout the body, inflammatory = swelling). It causes inflammation as well as excess fluid in the joints. It often leads to destruction of the cartilage. Joints become swollen, painful and warm, and movement is limited by resultant stiffness.
Rheumatoid arthritis is less common than Osteoarthritis and its incidence is declining.  It affects around 1% of the world's population and is 3x more prevelant in women than men. Onset usually occurs between the ages of 40-50. It will usually affect a number of joints, especially the hands, feet and neck. Symptoms can come and go, known as "flare ups". One of the most distinguishing features is morning joint stiffness which eases with movement.
Whilst there is no definitive cure for arthritis pain in knees, there is a lot that can be done to help reduce pain and improve function.  Find out more about arthritis by choosing from the links below:
Go to Homepage
---
© knee-pain-explained.com 2010-2015
Last updated 27th January 2015
Knee-Pain-Explained.com is a trading name of Wilson Health Ltd
All rights reserved. Terms & Conditions apply

The material on this website is intended for educational information purposes only.  It should not substitute or delay medical advice, diagnosis or treatment.

---