Mueller Knee Braces
Mueller knee braces are one of the best options out there for knee supports and have been around since the 1960's.
Mueller make a whole range of braces, available worldwide, suitable for every different knee condition from basic support for sprains and strains to pro-level braces for top athletes.
Here you will find my top recommendations. These are the ones that have been tried and tested, and that people have found give them the right combination of support and comfort for their knee problems.
Mueller knee braces are either one size fits all or are available in five sizes. Simply measure around the centre of your knee and check our size guide below.

Types of Mueller Brace
There are three categories of Mueller knee braces, each offering different levels of support and protection:
Basic Level Brace: for minor injuries, instability and pain
Advanced Level Brace: for mild to moderate injuries, instability and pain
Elite Level Brace: Provide maximum support for moderate to severe injuries, instability and pain.
Basic: Protection Level 1
These knee braces are suitable for minor knee pain, sprains and instabilities. They work particularly well for people needing some support due to arthritis, bursitis or patellar tendonitis.
However, if there is instability, they are unlikely to give enough support. They also help to keep the knee warm which can help to reduce pain.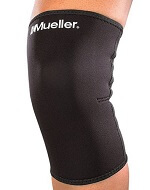 Overview: This popular lightweight elastic pull on sleeve offers firm support for stiff, weak or sore knees without inhibiting movement. Its contoured design helps prevent bunching and slippage to ensure a proper fit. 
The Mueller Knee Support provides compression and retains warmth to promote healing and reduce pain, making it perfect after minor injuries.
My verdict: A good basic pull on sleeve offering mild support and protection, but not right if you have a serious injury. Average user rating 4.1/5
Read: User Reviews    Buy Now: ON SALE (guide price $13/£9/€16)

Advanced: Protection Level 2
These advanced protection Mueller braces are suitable for mild to moderate ligament instabilities and/or knee pain.  They:
1) Have adjustable straps and inbuilt supports to provide targeted support where needed
2) Reduce the forces going through the kneecap by improve patellar tracking (how the kneecap moves)
3) Retain heat which increases the circulation to the knee which can help to promote healing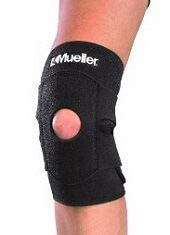 Overview: This Mueller brace is a lightweight, adjustable support that provides firm, comfortable compression without restricting movement. It is perfect for weak, injured or arthritic knees. It has four patented straps providing controlled compression and a perfect fit for your knee.
The open kneecap design helps stabilise the kneecap without putting any pressure through it. Its contoured design and Velcro cover minimises bunching and prevents friction behind the knee. The soft neoprene blend retains heat for soothing warmth to help relieve pain and promote healing. One size fits most.
My verdict: People find this brace really comfortable even when worn all day. It doesn't cause any restriction behind the knee like some pull on sleeves do. Average user rating 4.1/5
Read: User Reviews    Buy Now: ON SALE (guide price $12/£20)


Overview: Knee straps are perfect for osgood schlatters, chondromalacia patella, patellar tendonitis (jumpers knee) and Runners Knee. This Mueller knee brace strap places mild pressure on the patella tendon just below the kneecap reducing pain and improving kneecap position and patellar tracking.
A tubular insert provides uniform pressure for pain relief. One size fits most (10-22"). The Mueller Knee Strap is available in a range of colours: red, royal blue, green, black, gold/yellow, orange, pink.
My verdict: This is the best value knee strap on the market and gets great reviews. Mueller are the only brand that offers the strap in a wide range of colours. Knee straps may not look like much but they work brilliantly and consistently get great reviews. Average user rating 4.4/5.
Read: User Reviews    Buy Now: ON SALE (guide price $13/£20/€20)

Overview: This lightweight, comfortable support provides targeted compression without reducing mobility. It is perfect for Runners Knee (anterior knee pain), chondromalacia patella, osgood schlatters, patella tendonitis, patella maltracking problems and Iliotibial band friction syndrome.
The Mueller Max Strap has three compression tubes:
1) Lower targets the patellar tendon
2) Upper targets quadriceps misalignment
3) Two side tubes help improve patellar position, movement and tracking.
These all decrease the forces going through the knee cap and friction on the Iliotibial band (ITB) and patella tendons. The breathable mesh fabric prevents excessive sweating, a common problem with knee braces.
My verdict: I'm generally not a big fan of double knee straps as I think the single knee straps work just as well and are cheaper. However some people really like having the extra support above the knee too particularly if they get ITB problems. Average user rating 4.1/5.
Read: User Reviews    Buy Now: ON SALE (guide price $20/£30/€29)

Elite: Protection Level 3
Elite braces are the ultimate in protection. They are designed to provide the maximum level of support for moderate to severe knee pain and instability.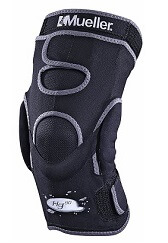 Overview: Designed for all ligament and cartilage injuries, arthritis, chondromalacia patella, patella subluxation and patella tendonitis. The triaxial hinge and flexible steel springs provide maximum protection without limiting knee movement.
The Mueller Hg80 Hinged Knee Brace is made from Hydracinn fabric (latex and neoprene free) which provides good durability and heat management to prevent excessive sweating. The contoured inner sleeve and adjustable strap at the top ensures correct fit and the unique antimicrobial layer protects from bacteria and other micro-organisms, reducing odors. Comes in four sizes (not available in XXL). 
My verdict: This is a great brace for skiers and active sports people. I like that it is made from special material to prevent it getting smelly!  Average user rating 4.2/5.
Read: User Reviews    Buy Now: ON SALE (guide price $33/£38)


Mueller Knee Braces Size Guide
It is really important to get the correct size brace, otherwise it won't work effectively and will be very uncomfortable.
Mueller knee braces are either one size fits most or come in five possible sizes. Measure around the centre of the knee and chose from the options below. If your knee size falls between two sizes, it is usually best to go for the larger size for a better fit.

Please note there are often two or three versions of each Mueller braces with subtle differences so make sure you order the correct one.
There are other Mueller knee braces available, but they don't all receive great feedback from users. All the ones I have chosen get great reviews by people like you suffering from knee pain. People have highly recommended all of the braces discussed here as providing the right level of support, comfort and durability for their different knee problems.
If you're not sure you've found the perfect brace for you, visit the Knee Brace Overview to find out more about the different types of knee brace available and to find out about other manufacturers.
Page Last Updated: 09/10/18
Next Review Due: 09/10/20
*Prices correct as of November 2023.  All prices are subject to change.  Please note we do not stock products directly and therefore have no control over price changes.  See advertising policy for more information.