Knee Exercise

Knee exercises are a great way to improve strength, flexibility and balance. They are one of the most effective tools for reducing knee pain.
Here you will find loads of exercise plans to choose from, whatever your problem or goal. But before you start, there are some things you should know to make sure you get the best results, safely and effectively.
Nine times out of ten, the best place to start is with strengthening exercises. In virtually every case of knee pain, there will be some weakness in the muscles surrounding and supporting the knee joint. Simple strengthening exercises help to combat that.  
In the knee strengthening exercises section, you will find exercises split into different stages, beginners, intermediate and advanced and will find advice of how to progress as your muscle strength improves. There are easy to follow instructions and videos and all the exercises can be done from the comfort of your own home, with no need for any specialist equipment.

If you are raring to get going, skip straight to exercise plans.

When To Start Stretching

People often make the mistake of starting with stretching their muscles. When there is muscle weakness, the other muscles around the knee try to compensate and provide stability themselves by tightening up to control knee movement.
If you carry out stretches without first strengthening the knee, you can actually cause more knee problems as you are taking away your body's support structure making the knee less stable and putting more force through it.
Therefore, I often advise people to start with strengthening exercises and then after a couple of weeks, add in knee stretches.
Working At The Right Level

Everyone is different depending on the cause of their knee problem, age, fitness level, and the strength of each muscle. My advice is start slowly and gradually build up.
Start with a low number of repetitions on day 1, and stop – don't be tempted to do more. Sometimes, it can take a few hours for post exercise fatigue/discomfort to settle in. If the next day everything feels fine, next time increase the number of repetitions by 1 or 2. Then wait 24 hours and see how you feel.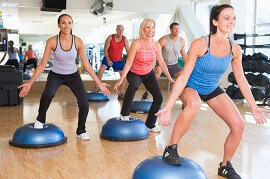 Not working hard enough: If an exercise feels very easy, you probably need to push things a bit more.
Getting it right: As you do the exercises it should feel like you are working reasonably hard, but shouldn't be too painful. Any discomfort should stop within a few minutes of stopping the exercise.
Done too much: If a knee exercise feels like really hard work, you are probably pushing things a bit too much. If you overdo things, your knee is likely to feel uncomfortable for a few hours after doing your exercises. If this happens, reduce the number of repetitions/weights
Re-evaluate regularly, aiming to progress your knee exercises approximately every three days.
How to Progress Exercises

There are a few different ways you can progress exercises:

1) Repetitions: The simplest way to progress an exercise is to increase the number of repetitions that you do.
2) Weights: Another simple way to progress strengthening exercises is to add a weight (e.g. ankle weights, or wear a shoe). When you do this, it is a good idea to reduce the number of repetitions you do of the exercise and gradually build them up again as the muscles are working harder.
3) Extras: sometimes there are clever ways to increase the difficulty of an exercise e.g. adopting a different position so look out for these in the knee exercise plans.
I also recommend checking out the Getting The Most out of Knee Exercises section for top tips on how to ensure the best results.
Knee Exercise Plans

Want to get going with exercises that are right for you? Choose from the following knee exercise plans.
a) General programme of exercises for knee pain: Choose from beginners, intermediate and advanced
b) Exercises for specific knee injuries/conditions: Arthritis, Osgood Schlatters, Bakers Cyst, Housemaids Knee, Meniscus Tear, Kneecap Exercises

c) Knee stretches: Try out simple tests to find out which of your muscles need stretching and how to stretch. Quads stretches, Hamstring stretches, calf stretches, glutes stretches and ITB stretches.
d) Knee strengthening exercises: Choose from easy, intermediate and advanced
e) Balance/proprioception exercises: Essential for sports men and those recovering from knee injuries
Remember, if you are suffering from knee pain or are about to start on a new knee exercise programme, always make sure you consult a doctor first.
Go to Knee Exercise Guide or Knee Pain Guide