Oct 12, 2017
Knee Arthritis Book: Take Back Control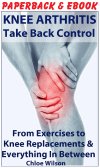 http://www.knee-pain-explained.com/images/paperbackandebook100opt.jpg
Check out this recent 5 star review of our book Knee Arthritis: Take Back Control!
"An excellent book. I was able to practice the exercises prior to my knee replacement which proved to be very beneficial. Also explains every stage of recovery from the surgery. 5/5 stars"
Our book tells you everything you need to know about knee arthritis and knee replacement surgery.