Knee Replacement Rehab

Thorough knee replacement rehab is vital if you want to get the best results from your new knee. Done correctly, it will help you regain movement, strength and balance, enabling you to get back to the activities you love, or even allow you to take up new ones.
Rehab should ideally start before you have your surgery. Both before and after surgery you will see a physical therapist who will go through a rehab programme consisting of exercises to help you regain your knee movement and build up your muscle strength.
It is well worth starting these exercises before you have your operation to get your muscles stronger as you will recover quicker from the operation. After surgery, you will be able to progress onto more advanced exercises.
Knee Replacement Rehab exercises will help to increase the amount of movement at your knee, so you can bend and straighten it fully and the strength of your knee muscles. These will make your daily activities such as walking and climbing stairs much easier.
Successful Knee Replacement Rehab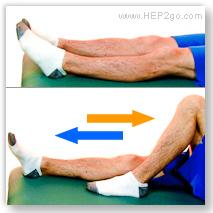 How much you stick to your rehab programme will have a big impact on the outcome of your knee replacement. If you exercise, you will end of with a very strong, mobile knee that allows you to do almost anything you want. If you don't exercise your knee you run the risk of developing long term stiffness and weakness in your knee which will limit function eg walking, and climbing stairs.
Check out the Knee Replacement Rehabilitation Exercises section for simple and effective exercises to do both before and after knee replacement surgery to help you get the best out of your new knee.
RELATED PAGES

TKR Overview: Including how to tell if you would benefit from surgery
Surgery: What actually happens during the surgery
Recovery: Including a guide to when you can return to activities
Common Questions: Answers to the most frequently asked questions after knee replacements
Common Problems: A guide to the most common problems associated with knee replacement surgery
Partial Knee Replacements: Less invasive surgery where only one side of the knee is replaced
Go to Knee Replacement Overview or Homepage

---
© knee-pain-explained.com 2010-2014
Updated 21st October 2014
All rights reserved. Terms & Conditions apply
The material on this website is intended for educational information purposes only.  It should not substitute medical advice, diagnosis or treatment.

---