Knee Replacement Recovery Time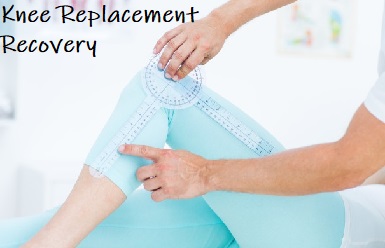 Knee replacement recovery time will vary for each person, but here is a good guide as to what to expect.
Most people make an excellent knee replacement surgery recovery and are up and about very quickly.
Gone are the days when people were in hospital for two weeks after their surgery. Now it's up and about straight away and home in just a few days.
Knee Replacement Recovery Timeline
Knee replacement recovery begins before your surgery. You will have a rehab programme to work on which you can actually start before your operation to get your muscles in the best shape possible which will really help. The people who make the best total knee replacement recovery are the ones who start the rehab process before their operation.
Here, we will look at total knee replacement recovery time, what is involved and how long it usually takes to get back to things. If are having or have had only one side of your knee replaced, visit the partial knee replacement recovery time section instead to found out how it will be for you. 
The First Week

After total knee replacement surgery you will be able to get out of bed and fully weight bear on your new knee within 24 hours but you may need to use a frame, crutches or sticks for the first few days.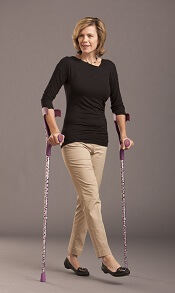 You will start your exercises straight away and will progress through the rehab programme as instructed by a physiotherapist. Starting early really helps speed up knee replacement recovery time.
People are normally discharged from hospital after 3-5 days (sometimes longer) depending on how you are doing. Before you can go home, you will need to be able to:
Get in and out of bed by yourself
Walk safely with or without crutches/sticks/frame
Climb steps and stairs (unless you don't have any)
Fully straighten your knee
Bend your knee well, preferably at least 90°
Related Article: Top Tips On Getting Up & Down Stairs >
The First Month

Once you are discharged from hospital, you will continue your knee replacement recovery at home. Your knee will be sore and swollen after your knee replacement initially but often much less so than before the surgery as you will no longer be getting any arthritis pain.
As the knee heals, the post-op knee replacement recovery pain will settle down, usually within a few weeks. You can help reduce the swelling by using Ice and Tubigrip (a special compression bandage).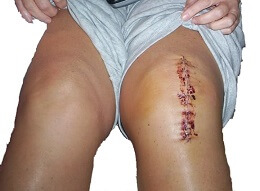 ·  Wound Care: You must keep the wound clean and dry until the stitches are removed, usually after 7-10 days.
 ·  Driving: You can drive after 4-6 weeks, as long as you can perform an emergency stop.
 ·  Walking: You will be able to stop using any walking aids such as crutches or sticks as soon as you feel able – usually in a few days, and certainly by six weeks.
After about a month you should notice quite a dramatic improvement in your knee.

Knee replacement recovery time will be impacted by how well you comply with the recommended rehab programme. It is really important to be doing exercises to build up the strength and flexibility around your knee to gain the full benefit of the surgery (see the exercises for knee replacement section).
Knee Replacement Recovery Time: First 3 months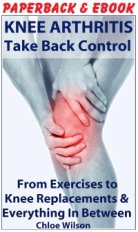 All the info you need about knee arthritis, top tips, exercises & loads more.

Rated 4.5/5
Find Out More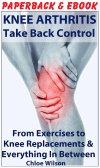 Top tips, exercises and loads more. Paperback or Kindle.
For 6-8 weeks after knee replacement surgery you should avoid:

Any pivoting (twisting) on your knee
Kneeling
Squatting
You will need to continue with your knee replacement rehab programme for at least 3 months after knee replacement surgery, probably six months to get the best result from your operation.
You will be able to progress your exercises as your knee gets stronger and more flexible. Visit the rehab section to find out more. The more you stick to your exercise programme, the quicker your knee replacement recovery is likely be.
Returning to Activities / Sports
Here is some more guidance relating to specific activities and knee replacement recovery time:

You can resume many activities after 6-12 weeks, for example swimming


Some activities should be carried out with care e.g. golf – don't wear shoes with spikes


Some activities are not advised following a total knee replacement as they put too much stress on the new knee joint. These include: jogging, contact sports e.g. basketball and football, squash, badminton, jumping activities and skiing. If you are unsure, discuss things with your doctor.
Pain and swelling can take up to 3 months to settle and knee replacement recovery time continues up to 2 years after your operation.
Knee Replacement Recovery Tips
Here's some top tips for four common questions about total knee replacement recovery time:
How Long Does The Pain Last? Many people find they have less pain after their knee replacement as the arthritis pain is no longer there. The post-op pain usually settles down within 6-12 weeks although their may be some residual pain and swelling for up to a year


How Do I Sleep After A Knee Replacement? Typically people find it most comfy to sleep on a firm mattress, either lying on their back or on their side with a pillow between their legs


Can I Kneel Down With My Knee Replacement? Yes you can although it may be uncomfortable in which case use a cushion or knee pad. Kneeling won't cause any damage to the knee replacement


How Do I Make the Best Recovery? In order to make the best knee replacement recovery, follow all the advice from your doctor and physical therapist. Start exercises prior to surgery, get up and about as soon as possible, stick to your rehab programme, take medications reguarly when advised and keep going. There may be ups and downs along the way, but stay focused and positive
You can find the answers to loads more similar questions in the total knee replacement recovery questions section. 
Find Out More

Knee replacement recovery time with vary person to person and may even go up and down.  If you want to know more about knee replacement surgery, visit the sections below:
Knee Replacement Book: Everything you need to know in a handy book
Overview: Including how to tell if you would benefit from surgery
Surgery: What actually happens during the operation
Rehab: Including what you can do to get the best results
Common Problems: Common problems associated with knee replacements
Common Questions: Frequently asked questions after knee replacements
Knee Replacement Video: Watch an animated guide or real footage from a TKR
Partial Knee Replacements: Less invasive surgery where only one side of the knee is replaced
---
Related Articles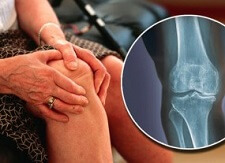 Knee Arthritis
March 24, 2020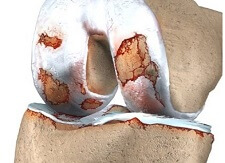 Best Diet For Arthritis
September 25, 2018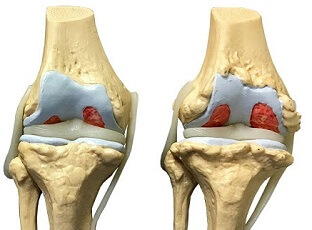 Top 10 Treatments
March 24, 2020
---
Page Last Updated: 14/10/20
Next Review Due: 14/10/22
References
1. Biomed Central Musculoskeletal Disorders: What is the evidence to support early supervised exercise therapy after primary total knee replacement? A systematic review and meta-analysis. January 2019
2. British Medical Journal Open: Cost-effectiveness of enhanced recovery in hip and knee replacement: a systematic review protocol. March 2018
3. Physiotherapy Journal: New approach for the rehabilitation of patients following total knee arthroplasty. May 2015