ACE Knee Brace
Ace knee braces repeatedly receive excellent reviews and are very popular products.
"ACE" stands for "All Cotton Elastic" and they has been making elastic bandages for nearly 100 years. Ace products are made by an American firm and are available worldwide. However, be aware that prices are higher outside the US.
ACE knee braces provide:
Mild Support: suitable for minor knee problems or
Moderate Support: suitable for mild to moderate knee problems
NB ACE do not make braces providing Elite level support.
All ACE knee braces work well for various causes of knee pain, especially arthritis, sprains, cartilage and ligament injuries, bursitis, tendonitis and muscle weakness. They fit snugly providing some compression to the knee which helps support the soft tissues (muscles and ligaments) and retain heat as well as reducing swelling. This heat increases the circulation to the knee which can help to promote healing.
There are three styles of ACE brace, pull up sleeves, wrap around supports and knee straps.  Here we will compare models and styles and then look more at the pros and cons of each to help you find the best one for you.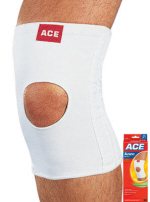 Overview: This ACE knee brace provides support and stability by simulating the action of the knee ligaments without restricting normal leg movement. It has flexible metal side stabilisers provide medial and lateral stability.
It is designed for use with arthritis, general knee soreness and swelling and works by supporting weakened muscles, tendons and ligaments and helping reduce the risk of injury. The open patella design prevents slippage and reduces pressure through the kneecap which often exacerbates knee pain.
My verdict: This is my favourite open pull up sleeve on the market as it has the added advantage of side stabilisers for extra stability. Users rate it highly for comfort, support and durability.

Overview: This breathable, woven ACE brace reduces pain by delivering firm even pressure and providing optimal support without restricting movement. Designed for arthritis, general knee soreness and swelling. Contoured to the natural bend of the knee to minimise bunching and slipping. Seamless design ensures firm, even compression and increased comfort. NB contains natural rubber latex which may cause allergic reactions
My verdict: A very flexible supportive brace. A good budget option.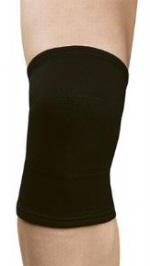 Overview: Black pull on sleeve that combines superior stabilization with the benefits of heat retention. Made of elastoprene – an innovative combination of breathable elastic and neoprene blend materials. This provides support and retains heat to help reduce swelling and aid healing, whilst releasing moisture to prevent excess sweating. Has comfortable reinforced edges which prevent rolling and slipping. Available in sizes Small/Medium 11-15" and Large/Extra Large 16-20".
My Verdict: This is a great simple pull up sleeve that provides moderate support. I like the elastoprene material that gives the benefits of heat retention to improve healing without making the leg all sweaty.
Wrap Around ACE Knee Braces
These ACE knee braces are suitable for mild to moderate ligament instabilities and/or knee pain. I personally prefer wrap around braces as they tend to fit better than pull up braces.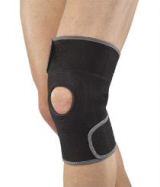 Overview: Adjustable neoprene ace knee brace with adjustable straps for controlled compression and perfect fit. Open at the front with a support buttress to improve patella tracking whilst reducing pressure through the kneecap. Made of breathable lightweight neoprene blend, which aids circulation and helps keeps muscles pliable, reducing susceptibility to injury. Antimicrobial material inhibits growth of odour causing bacteria. Latex free
My verdict: This is my favourite of the wrap around Ace braces. Users regular say they find this brace comfortable, supportive and sturdy.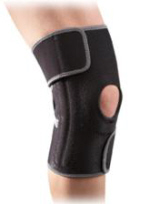 Overview: Flexible dual side stabilisers provide support and medial/lateral stability when you walk, bend, run, jump or climb. Allows full range of movement whilst delivering comfortable support and protection. Open at the front to improve patella tracking whilst reducing pressure through the kneecap. Adjustable straps to ensure optimum fit and prevent slipping. Comfort fit sleeve reduces irritation behind the leg, and breathable material keeps you cooler and drier. Antimicrobial treatment inhibits growth of odour-causing bacteria.
My verdict: People often find this brace uncomfortable as the middle strap behind the knee can rub and restrict movement. Instead, I would recommend the McDavid Adjustable Knee Support
Perfect for use with Runners Knee, Osgood Schlatters, Patellar Tendonitis, Chondromalacia Patella, patellar tracking problems and general knee pain.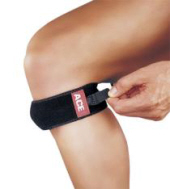 Overview: The only knee strap on the market that is dual adjustable. Has a Velcro fastening with unique additional small side tab that can be pulled to tighten the straps once they're Velcro'd together. Only available in the US - for other versions visit the knee straps section.
My verdict: An excellent strap that consistently gets great reviews. Because of the dual adjustability I would recommend this over other brands as it tends to be easier to ensure a perfect fit.

Pros and Cons of Each Style

So as you will see, there are three types of ACE Knee Brace.  Here we will look in a bit more details at the pros and cons of each style
Pull Up Sleeves
1) Simply pull them on and you're ready to go – no Velcro!
2) Great value for money
3) Available in open (hole for the kneecap) or closed version
4) Available in a range of sizes – see the size guide below to find the right size for you
Wrap Around Knee Braces
1) Adjustable straps so you can fit to your own unique shape. Able to respond to changing sizes of swollen knees
2) Have inbuilt support to provide extra stability where needed
3) Really easy to get on and off rather than having to pull them up your leg
4) Tend to stay in place better than pull up sleeves
5) One size fits all
Knee Straps
1) Simple band strap that sits just below the patella to provide targeted compression to reduce the pressure through the knee and the tendons
2) Perfect for use with runners knee, tendonitis, osgood schlatters, chondromalacia patella, patellar tracking problems and general knee pain
3) One size fits all
4) They don't look like much but they work brilliantly
ACE Knee Brace Size Guide
Where ACE knee braces come in more than one size, it is important to get the right one. Measure around the widest part of the knee and choose from the options below. Some people find that ACE braces come up a bit tight so if you are measuring towards the top of a range, it may be worth buying the size above.

Other Knee Brace Options?
There are other ACE knee braces available, but they don't all receive great feedback from users. If you're not sure you've found the perfect brace for you, visit the knee brace section to find out more about the different types of brace available and to find out about other manufacturers.

*Prices correct as of September 2016.  All prices are subject to change.  Please note we do not stock products directly and therefore have no control over price changes.  See advertising policy for more information

Go to Knee Brace Guide or Homepage