Knee Replacement Problems

Knee replacement problems are rare, with approximately 90% of knee replacements being extremely successful. But occasionally, problems do develop.

Sometimes people find that their knee makes funny creaking/cracking/ popping noises after a knee replacement. This is nothing to worry about and usually settles down within a few months as everything heals.
Another common knee replacement problem people sometimes find is that it may also feel a bit numb around their scar – this can happen because some of the small nerves that supply feeling to the skin are cut during the operation. Nerves can take up to 2 years to fully heal so you may notice improvement up until then. Any resultant numbness after that time is not likely to change.
Risks of Surgery

With any surgery, there are risks. These include bleeding and infection. Risks for anaesthesia include breathing problems and reactions to the medications.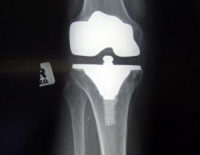 Specific risks for a knee replacement include:
1) Blood clots: these can travel around the body and cause problems such as heart attack or stroke
2) Swelling: fluid build up in the knee joint
3) Blood vessel/nerve damage: may affect the sensation around the knee joint
4) Pain kneeling: you may need to kneel on a cushion
5) Complex Regional Pain Syndrome: rare problem with circulation and sensation leading to pain and swelling

Long Term Problems

Longer term knee replacement problems are rare but include:
1) Wearing of the prosthesis: 85% of knee replacements last at least 20 years

2) Loosening of the prosthesis: 1.4% of patients require a repeat Total Knee Replacement, known as a Revision Knee Replacement

3) Infection in the knee joint: this can occur years after surgery
You will know if something is seriously wrong as the knee will become very painful, it may swell, and you may notice redness around the knee joint. Occasionally this may be accompanied by a fever. If this happens talk to your doctor immediately.
The best way to ensure you make a great recovery after a knee replacement is to do knee replacement exercises both before and after surgery until you have regained full movement, strength and function in your new knee.
Find Out More
If you want to know more about knee replacement surgery, visit the sections below:

TKR Overview: Including how to tell if you would benefit from surgery
Surgery: What actually happens during the operation
Rehab: Including what you can do to get the best results
Recovery: Including a guide to when you can return to activities
Common Questions: Answers to the most frequently asked questions after knee replacements
Partial Knee Replacements: Less invasive surgery where only one side of the knee is replaced
Go to Knee Replacement Overview or Homepage

---
© knee-pain-explained.com 2010-2014.
Updated 2nd July 2014
All rights reserved. Terms & Conditions apply
---