Thermoskin Arthritis Knee Wrap

The Thermoskin Arthritis Knee Wrap is becoming increasingly popular. A number of people have asked me about it, so here you will find a review of this popular brace looking at the pros and cons and comparing it to other knee braces. 
Thermoskin is a well-known brand originating in Australia, which is partnered with the Australian Institute of Sport and endorsed by the Australian Physiotherapy Institute. 
They make a whole range of braces both for the knee and other body parts.  Here we will concentrate on the Thermoskin knee brace designed specially for arthritis.

Thermoskin Knee Wrap Overview
The Thermoskin arthritis knee wrap is an easy to use, wrap-around style knee brace.  It has velcro straps allowing you to control the amount of support and compression it provides.  This is particularly helpful if your knee fluctuates in size due to the swelling so often associated with arthritis.
It has a small hole at the front to reduce the pressure going through the kneecap and to allow the knee to breathe. 

The Thermoskin arthritis knee brace has a specially designed 3-dimensional trioxin lining which raises the temperature beneath the skin, increasing blood flow to the knee.  This brings with it fresh oxygen and nutrients to help promote healing.  

A study at the Victoria University in Melbourne, Australia found that wearing the Thermoskin Knee Support (similar to the arthritic knee wrap) increased blood flow by an average of 8% versus the control over a two hour period.

The Thermoskin arthritis knee brace also provides light but firm compression, falling into the basic knee support category.  It is available in 6 sizes and comes in a beige colour.

There are a number of other Thermoskin knee supports that are suitable for use with other knee conditions as well as arthritis, but if you are looking specifically for an arthritis brace, then Thermoskin recommends the arthritic knee wrap.

Review of Thermoskin Arthritis Knee Wrap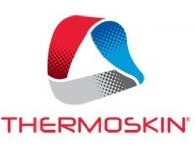 The Thermoskin arthritis knee wrap provides good, basic support and people generally find it comfortable to wear.  The heat retention works well although some people complain that it does make their knee slightly sweaty. 

The Velcro straps allow some control of the size but it is important to ensure you get the correct size.  Some people complain that after wearing it for a while, it comes loose and has to be re-fitted. 
On Amazon, it gets an average user rating of 3.8/5 which is reasonable, but there are other similar supports that receive better overall reviews (keep reading for more information).

Read: User Reviews    Buy Now: On Sale (guide price $28/£22/€29)

Alternative Options

There are a number of other good knee supports out there, similar to the thermoskin arthritis knee wrap.  My two favourites are:
Neo-G Knee Wrap gets an average user rating of 4.4/5 or if you are needing a bit more support
McDavid Patella Knee Support with an average rating of 4.1/5. 
They are designed for a range of knee problems, not simply arthritis, but they work in a similar way to the thermoskin arthritis knee wrap, both being made of neoprene which helps to retain heat.

Thermoskin Wrap Size Guide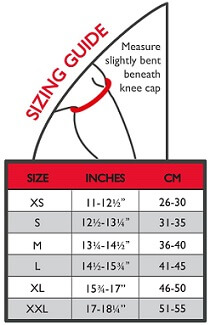 To find the right sized Thermoskin arthritis knee wrap for you, bend your knee slightly and measure the circumference of the knee, just below the kneecap and consult the size guide here.

To find out more about our other recommended braces, visit the knee braces section or if you are wanting something similar to the Thermoskin arthritis knee brace, go straight to either the arthritis knee brace section or the Velcro-Wrap Support section.

If you would like to find out more about Arthritis, including other treatment options, visit the Arthritis section.

You can also check out our book Knee Arthritis: Take Back Control. It is the top rated book on Knee Arthritis on Amazon with an average user review rating of 4.4/5.  It's packed full of great information from exercises to knee replacements and everything in between.  A perfect guide for anyone who is having a knee joint replacement
Page Last Updated: 11/11/21
Next Review Due: 11/11/23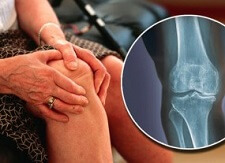 Knee Arthritis
June 13, 2023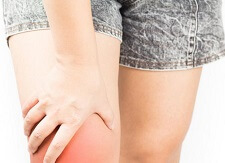 Knee Swelling
March 12, 2023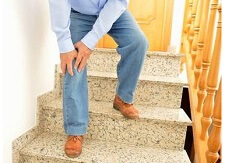 Knee Pain On Stairs
January 16, 2023
*Prices correct as of May 2023.  All prices are subject to change.  Please note we do not stock products directly and therefore have no control over price changes.  See advertising policy for more information.