Knee Exercise Videos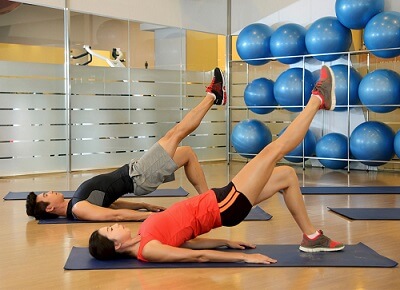 Here you will find the full collection of knee exercise videos from knee-pain-explained.com in one place, so you can easily find the ones you are looking for.
These exercises help to reduce knee pain by improving the strength, mobility and stability of the knee. 
If you're not sure which of these knee exercise videos are best for you, or where to start, go to the knee exercises section for guidance on choosing the right exercises as well as loads of top tips on getting the best results from knee exercises.
Each of these knee exercise videos talks you through the purpose of the exercise, who it is suitable for, how to perform it correctly and guidance on how to progress as you build up strength and flexibility around your knee.
If you need help working out what is wrong with your knee, visit the knee pain diagnosis or knee symptoms sections.
Knee Pain Exercise Videos
How Do Knee Exercises Help?
All of these knee exercise videos can help to improve the strength, stability and mobility of the knee, which can help to reduce knee, hip, back and foot pain. It is really important to have the right combination of strength, flexibility and stability to ensure our bodies perform at the best and reduce the risk of pain and injuries.
In most cases of knee pain, you want to start first with strengthening exercises. Once you are progressing well with those, you can add in flexibility exercises.
If you are recovering from a knee injury or surgery, then you will want to start with a combination of gentle knee mobility and strengthening exercises.
In each of stills of these knee exercise videos, you can see what the purpose of each exercise is and what instances they are appropriate for. 
Some of these knee exercise videos will seem a little too simple at first glance, but you may just be surprised! As a general rule, you are aiming to be able to perform approximately thirty repetitions. Often the first few will feel fine, but as you continue, your muscles will start to tire, so before ruling an exercise out for looking too easy, make sure to check!
There are a number of other knee exercises that we haven't yet made videos for (more coming soon!), so do visit the knee exercises sections to see the full range and do keep checking back to see what we've added.
Happy exercising!
Page Last Updated: 03/12/2019
Next Review Due: 03/12/2021