Recovery After ACL Surgery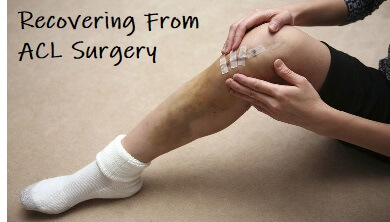 Recovery after ACL surgery is a slow process, taking on average 9-12 months. 
The outcome is usually extremely positive, ACL reconstruction surgery having a success rate of approximately 90%. However, problems can occur both in the short term and long term. 
The chances of developing problems after ACL knee surgery are greatly reduced by following a strict rehab programme and having realistic expectations about the ACL recovery process.
Problems after ACL surgery are usually minor and short lived, but some people do experience ongoing problems. Here we will look at the most common problems that occur and how to avoid and treat them.

What Happens During ACL Surgery?
ACL reconstruction knee surgery involves replacing the torn anterior cruciate ligament with a new graft. This is taken either from your own tissue (autograft), or from donor tissue (allograft). 

If using an autograft, the surgeon harvests some tissue from either your patellar tendon (below your kneecap) or you hamstrings tendon (on the back of your thigh).  They use these to create a new graft which is fixed into place and to do the job of the ACL.
You can find out loads more about what happens during surgery in the ACL recontruction surgery section.
Risks Of ACL Surgery
Any knee surgery carries risks, but the risks from ACL surgery are generally small:
Infection: there is a very small risk of developing an infection after ACL knee surgery in the incision.  If this happens, you will be given antibiotics


Deep Vein Thrombosis: A blood clot and/or infection can occur as in all operations. This risk is 1-2%.  You may be given pressure stockings to wear for a few days after surgery or blood thinning medication


Anaesthesia Complications: anaesthesia does carry risks, but serious risks such as cardiac arrest or paralysis are extremely rare.  Some people suffer from symptoms such as nausea, vomiting and headaches after ACL surgery but these usually settle quickly
"Normal" Short Term Problems
People usually recover really well after ACL surgery, but many report a few problems in the early stages. These are completely normal and usually nothing to worry about.
Common problems after ACL surgery include: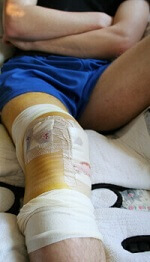 Swelling: 

Swelling can last up to 3 months after ACL surgery. This can be eased by using RICE therapy, a combination of appropriate rest, ice therapy, elevation and tubigrip compression bandage – visit the RICE section to find out more.



Difficulty Kneeling: 

Kneeling often causes pain after surgery initially, but with gradual progression through use of a cushion, then carpet, then hard floor, this usually improves.



Bruising: 

Bruising often appears down to the heel (usually on the inner side) and can last 4-6 weeks. It can make the lower leg very tender.  Keeping the leg elevated can help with this.



Numbness: 

Numbness around the scars is common due to damage to the small nerves around the knee from the incisions. It usually settles down after a few months, but occasionally it can persist long term. Numbness does not usually cause any functional problems.



Knee Pain: 

Some pain after ACL surgery is common both at the knee itself and around the new graft area but it is usually quite tolerable.  It is important to be taking regular, adequate pain relief as advised by your doctor to keep this under control so you can follow your rehab programme
Potential Long Term Problems
Whilst the outcome of ACL reconstruction surgery is usually extremely positive, occasionally longer term problems do occur.
Potential longer term problems after ACL knee surgery are:
Minimising Problems after ACL Surgery
As you can see, these problems often stem from problems with the rehab programme, either from a poorly designed programme or poor patient compliance.  It is really important to follow the advice of your surgeon and physio and to rigidly stick to your rehab and recovery programme. 
Recovery after ACL surgery is a slow process and it takes at least 6 months before you can start thinking about returning to sport.  You can find out more about the recovery and rehab process after ACL surgery including a recovery timeline in the ACL recovery and rehab protocol sections.

What Else Can Help?
Understanding what ACL injuries, what surgery involves and the full rehab process can make a huge difference with ACL knee injuries. Check out these articles which explain everything you need to before and after ACL surgery.
Page Last Updated: 10/15/21
Next Review Due: 10/15/23
Related Articles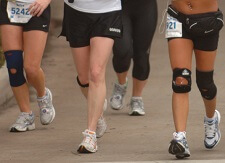 Best Knee Braces
March 23, 2023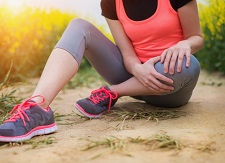 Knee Injuries
October 13, 2021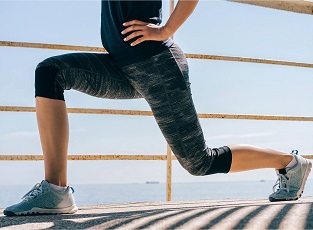 Improve Flexibility
January 11, 2023
---