Partial Knee Replacement Surgery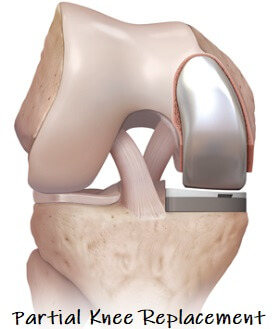 Partial knee replacement surgery is where an orthopedic surgeon replaces one side of the knee joint, usually due to damage caused by arthritis. 
Most commonly, it is the inner side of the knee that needs replacing. A partial knee replacement is also known as a unilateral knee replacement or uni knee.
Partial knee replacement surgery has the advantage that it is less invasive and quicker to recover from than a total knee replacement. However, it is not suitable for everyone and there are strict guidelines to follow for eligibility.

Here we will look at what goes on before and during the surgery and what the benefits are of having partial knee replacement surgery over a total knee replacement.
We will then look at the rehab and recovery phase and common problems associated with surgery.

Preparing for Surgery

You will normally have a pre-op appointment a few days or weeks before your partial knee replacement surgery where the surgeon will talk you through what is going to happen.
You should also see a physical therapist at this time who will go through exercises for you to do after the operation. It is well worth doing these before your partial knee replacement surgery as the stronger and more flexible your knee is before surgery, the quicker you will recover.  
This video from the american Academy of Orthopedic Surgeons has loads of top tips on preparing for joint replacement surgery.
In the knee replacement exercise section you will find loads of suitable exercises that you can do before and after surgery to get the best results.
Partial Knee Replacement Surgery

Partial knee replacement surgery is carried out either under:
General Anaesthetic: where you are put to sleep for the duration of the operation
Spinal Anaesthetic (epidural): which numbs the body below the waist. You are awake during the operation but are given medicine to make you sleepy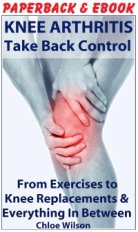 All the info you need about knee arthritis, top tips, exercises & loads more.

Rated 4.4/5
Find Out More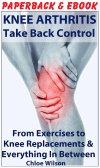 Top tips, exercises and loads more. Paperback or Kindle.
On the day of your operation you be admitted to hospital and then have surgery. 
An incision (cut) is made on the front of the knee to expose the joint. The surgeon will assess the joint to ensure that a partial knee replacement is suitable.
Occasionally the extent of the arthritis does not show up clearly on x-ray and partial knee replacement surgery may not be suitable after all. If this is the case, the surgeon will perform a total knee replacement (TKR) instead.  You should have been consented for this prior to surgery.

The arthritic parts of the bones are removed and then replaced with the prosthesis (new joint made of metal and plastic) which is attached to the ends of the thigh and shin bones (femur and tibia) working to re-line/resurface the joint.
The prosthesis is then secured in place with cement and the wound is stitched up. Partial knee replacement surgery usually takes around 1.5hrs.
Benefits over a TKR

There are a number of reasons to opt for partial knee replacement surgery over a total knee replacement if it is suitable: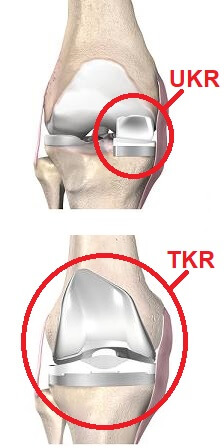 Smaller Incision: with a TKR the incision is usually about 8-10 inches, whereas with a UKR it is about 3-4 inches


Less Bone and Cartilage Removed: about 75% less bone and cartilage are removed than with a TKR


Less Post-op Pain: as it is less invasive


Quicker Recovery: some people are discharged the same day as surgery, if not within 24-48 hours. People also get back to their normal activities quicker


More Movement: tend to regain more movement in the knee quicker


Knee Ligaments: No ligaments are removed with a partial knee replacement which allows the knee to function more normally and better balance - with a TKR the ACL and PCL are removed from the middle of the joint


Comfort: people often report their knee feels more normal after partial knee replacement surgery compared with a TKR e.g. activities such as kneeling
Want to Know More?

If you want to know more about partial knee replacement surgery, visit the following sections: