Partial Knee Replacement Surgery

Partial knee replacement surgery is where they replace one side of the knee joint, usually due to damage caused by arthritis.  Most commonly, it is the inner side of the knee that needs replacing.  It is also known as a unilateral knee replacement or uni knee.

Here we will look at what goes on before and during the surgery, and what the benefits are of having a partial knee replacement over a total knee replacement. 
Partial knee replacement surgery is not appropriate for everyone.  You can find out more about the indications for surgery in the PKR overview. 

Preparing for Surgery

You will normally have a pre-op appointment a few days/weeks before your partial knee replacement surgery where the surgeon will talk you through what is going to happen.
You will also see a physical therapist who will go through exercises for you to do after the operation. It is well worth doing these before the surgery as the stronger and more flexible your knee is before surgery, the quicker you will recover. See the knee replacement exercise section for suitable exercises for before and after surgery to get the best results.
Partial Knee Replacement Surgery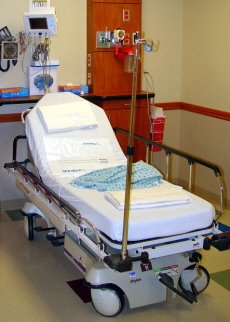 On the day of your operation you be admitted to hospital, and then have surgery. Partial knee replacement surgery is carried out either under a general anaesthetic or a spinal anaesthetic.
General anaesthetic: you are put to sleep for the duration of the operation
Spinal anaesthetic (epidural): numbs the body below the waist, and you are also given medicine to make you sleepy.
An incision (cut) is made on the front of the knee to expose the joint. The surgeon will assess the joint to ensure that a partial knee replacement is suitable. Occasionally the extent of the arthritis does not show up clearly on x-ray and partial knee replacement surgery may not be suitable after all. If this is the case, the surgeon will perform a Total Knee Replacement (TKR) instead.
The arthritic parts of the bones are removed and then replaced with the prosthesis (new joint made of metal and plastic) which is attached to the ends of the thigh and shin bones (femur and tibia) working to re-line/resurface the joint. The prosthesis is then secured in place with cement and the wound is stitched up.
The operation takes about 1.5hrs.
Benefits over a TKR

1) Smaller Incision: with a TKR the incision is usually about 8-10 inches, whereas with a Partial Knee Replacement it is about 3-4 inches
2) Less bone and cartilage removed: about 75% less bone and cartilage than with a TKR
3) Less post-op pain: as it is less invasive
4) Quicker recovery: Some people are discharged the same day as surgery, if not within 24-48 hours. People also get back to their normal activities quicker
5) More movement: tend to regain more movement in the knee
6) Knee ligaments: remain intact allowing the knee to function more normally and better balance
7) Comfort: people often report their knee feels more normal after a partial knee replacement compared with a TKR.
Want to Know More?

If you want to know more about partial knee replacement surgery, visit the following sections:
Overview: Including who Partial Knee Replacements are suitable for and what is involved
Recovery: Including how successful surgery is and when you can return to activities
Problems and Risks: A guide to the most common problems associated with partial knee surgery
Common Questions: Answers to the most frequently asked questions after partial knee surgery
Partial vs Total Knee Replacements: Compare the two to find out which surgery is right for you
Go to Knee Replacement Overview or Homepage

---
© knee-pain-explained.com 2010-2015
Last updated 21st January 2015
Knee-Pain-Explained.com is a trading name of Wilson Health Ltd
All rights reserved. Terms & Conditions apply

The material on this website is intended for educational information purposes only.  It should not substitute or delay medical advice, diagnosis or treatment.

---